Mike O'Brien, Manager California Office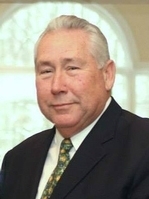 301-863-2991
301-863-7528 fax

22894 Three Notch Road
California MD, 20619
Receive Email Alerts from Me
Mike O'Brien, Broker & Manager California Office
MISSION STATEMENT
We are committed to treat all of our customers as family and to do our very best to make your real estate transaction as smooth as possible.  We promise to deliver all of our services, including those of our affiliated title, mortgage and relocation companies with an unequaled level of enthusiasm.
QUALIFICATIONS
Michael P. O'Brien is president and owner of O'Brien Realty, one of the top 100 realty firms nationally, according to Real Estate Trends Magazine. The company employs approximately 200 people and is engaged in real estate brokerage, residential land development and commercial site development. Mr. O'Brien also heads up 1st Choice Mortgage, LLC and Bridgeview Title, LLC providing mortgage and title services throughout Maryland. He has been a long standing member of the Chamber of Commerce, The Southern Maryland Navy Alliance, and Patuxent Partnership. He is a past director of Southern Maryland Association of Realtors, First Federal Savings & Loan of Annapolis, Maryland Bankcorp, Inc., and is one of the organizing "Plank Holder" members of the Patuxent chapter of the Navy League of the United States. He currently serves as a Trustee of St. Mary's College of Maryland, the State's public honors college. Mr. O'Brien was the contributor of the residence and studio that enabled the College's "Artist in Residence" program and is a past Director of the St. Mary's College of Maryland Foundation.

Mr. O'Brien graduated with honors from the University of Maryland with degrees in economics and accounting. He served in the U.S. Army and is a decorated Vietnam veteran. Prior to becoming a real estate broker, he spent 10 years as a CPA who specialized in tax and SEC compliance issues with the firm Ernst & Young. A Washington D.C. native, he moved to Southern Maryland in 1980 and began building his company and raising his four children.